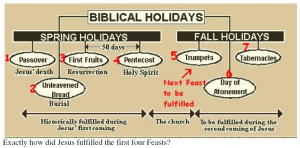 You may ask yourself if we should follow HIS commanded Feasts??? The answer is simple. We need to throw away our tradition of celebrating MAN-MADE holidays and get back to celebrating HIS commanded Feast Days. HE never once told us to stop. Man, through the Church, taught us to stop!!! It may sound odd or even Jewish to some but if you don't know what they are, you need to learn them and celebrate them. Once you understand HIS Feast Days you will have a much clearer understanding of many of the verses in the Sacred Text. Don't just throw the Feast Days out the door because you were taught to do so. HE commands us to follow in them for ALL GENERATIONS.
It is the practice of the enemy to deceive us and turn us away from HIS commands all together. It is the goal of the enemy to steer us towards man-centered doctrine and away from HIM. The Feast Days are truly rewarding to us. They bring us closer to his PERFECT PLAN. They teach us how HE wants us to live. Each and every verse that most Christians use to teach against the celebration of HIS Feast Days are taken out of Biblical context or completely made up lies about what the Sacred Text teaches us. Ye'shua (Jesus) KEPT the Holy Days as did all his followers and the 1st Century Church. Look at it this way. If the Feast Days were not upheld by our Messiah that would be a SIN and we know he didn't SIN!!!!
Here is just one example of the Renewed Convenant (New Testament) establishing to keep a HOLY DAY. The Apostle Paul wrote to the Gentile Christians at Corinth the following verse:
I Cor. 5:7-8 Christ our Passover is sacrificed for us: therefore let us keep the feast"
That particular feast was the "Feast of Unleavened Bread". That is just one example. We have to put down the 2000+ years of doctrine taught by the Church and realize that our Messiah wants us to celebrate HIS days. If you don't know the days you can't expect to know what will happen in the end times. The fall feasts have yet to be completed and we must learn them so we don't miss HIM when HE comes back. You think you won't miss HIM?  You think you will know who HE is when HE comes?  Notice in the picture above the gap between spring and fall. This "gap" is called the drought. The drought is when we decide to turn from HIM and teach against HIS commands. We are in a "drought" today. Very, very few teach that we are to celebrate HIS Feast Days. Why is this? It is because it has become "Tradition" to not celebrate them. Ask yourself this, if our Messiah and every single follower celebrated the commanded Feast Days, why don't we? Just because our Messiah was sacrificed doesn't mean he "lifted" the commands from us.
THESE FEASTS HAVE BEEN FULFILLED:


Passover (Pesach)         (Last Supper to Christians.  It was the day our Messiah was sacrificed)

Days of Unleavened Bread       Completely disregarded by most of Christianity)
First Fruits   (Falls on the 3rd Day of Feast of Unleavened Bread.  It was the day our Messiah was resurrected.  Celebrated as Easter by Christianity.  BEWARE, Easter is not Biblical at all.)
Pentecost (Shavuot)      (The day we received the Ruach haKodesh)

THESE FEAST ARE YET TO BE FULFILLED:

Feast of Trumpets       (Yom Teruah but became the "Jewish New Year/Rosh Hoshanah)

Day of Atonement      (Yom Kippur)
Feast of Tabernacles (Sukkot)       (Includes the 8th Day or Last Great Day)
"Always Learning"
Biblical Truth