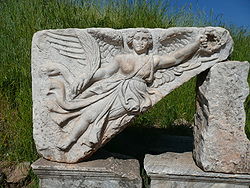 NIKE is not Biblical.  It comes from Greek Mythology.  In Greek mythology Nikewas a goddess who personified victory, also known as the Winged Goddess of Victory.  Notice how the image of her looks like the Nike swoosh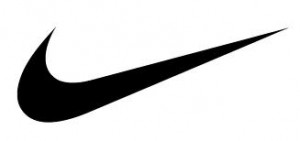 .  Don't read to much into that though.  It has become sort of a myth that the Swoosh represents the wings.  The original woman that came up with the logo did it on her own and did not make it out to look like the wings of the greek goddess.
We have re-wrote this page as we have been given new information.  We used to hold to the belief that the Swoosh was the symbol of another god and avoided it all together.  While the Swoosh was never a pagan symbol of a god the name NIKE is a Greek Goddess.  We used to have a problem with displaying a Swoosh but we no longer do.  If you read the replies on this page you will see why we changed.  Thanks to a deeper study by a person that read our post we have changed our mind on this issue.  We still won't display the name NIKE on anything we have but the Swoosh is not a problem for us.  So if we had a shirt of something with just the Swoosh we no longer consider that displaying a symbol of another god.  Thanks to the person that showed us this.  Like the Bible says "Iron sharpening Iron".
We do ponder this command though:  Exodus 23:13  13"Pay attention to
all that I have said to you, and make no mention of the names of other gods, nor
let it be heard on your lips.
According to that verse we shouldn't even say the name of the pagan gods.  Then we study some more and noticed the names of the "other gods" are written in our Bible at least 34 times.  So the writers wrote them down.  Hmmmm.  WE are going to have to study that a bit more.
"Always Learning"
Biblical Truth