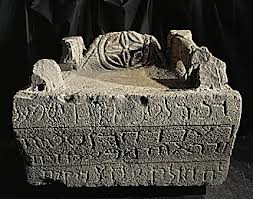 Did you know that during the time before Yeshua and even the times during Yeshua, the Priests would memorize the Tanakh.  They could "teach" the Israelites from memory.
If you ever wondered why Yeshua said "My God, My God, why have you forsaken me", look no further.  It is common to teach that Yahweh turned His back on Yeshua because at that moment, Yeshua had taken on all sin of the world.  We see the theology behind that but we can't believe that at any point of Yeshua's life He sinned, became sinful, or that Yahweh would turn his back to avoid seeing the sin HE adopted from the world.  Many will argue one way or the other but here is our "theory" on it from studying the Priestly system of that time.  The picture to the left is called the "Moses Seat".  The Moses seat was used as a "guarantee" that the teachings were inspired by Yahweh and not man.  If the Priest was sitting in the Moses seat he could not teach incorrectly.  It's actually mentioned in Matthew 23:1-3.  It is important to know that when a Priest would get ready to teach, he would say the first verse of the part he was teaching to get others to know where he was going with the teachings.  People back then did not have Bibles like we do today.  They only had the Tanakh.  Not everyone could afford to have a scribed parchment of paper with the sacred text on them.  Since the Israelites believed it was the very Word of God, they found it imperative that as much of the Scriptures (what we know as the Old Testament) would be memorized.  This was the era of scrolls.  They didn't have canonized Bibles to thumb through to find things.  And they certainly didn't have Google to help them look stuff up.  Scrolls were very expensive and they had to be handwritten by a Scribe.  They did not last long, and you needed paid scribes to constantly make new copies of them.
That brings us to our belief in this study.  Yeshua uttered the words "My God, My God, why have you forsaken me" to let the people know everything was okay.  He was telling his "taught" ones and the other people that studied the Tanakh the reason he was being sacrificed.  Yeshua was showing them to go look at Psalm 22.  Remember that the Priest of that time would say the first verse of the Chapter they were getting ready to teach.  Those words start the first verse of Psalm 22.  Yeshua was steering everybody around that could hear HIS voice to go learn Psalm 22 so they could have an understanding of what was happening.  We are going to post all of Psalm 22 so you can read this amazing part of history and see how our Messiah was truly the one they spoke of in the Old Testament.  Please read each and every verse and envision in your mind what HE must have gone through.  Through all this torture HE still held fast to the teachings of HIS father.  HE felt each agonizing minute of pain and never waivered in HIS teaching up to HIS final breath.
Psalm 22 My Ěl (God), My Ěl (God), why have You forsaken Me— (Matthew 27:46)     Far from saving Me, far from the words of My groaning?     2 O My Elohim, I call by day, but You do not answer;     And by night, but I find no rest.     3 Yet You are set-apart,     Enthroned on the praises of Yisra'el.     4 Our fathers trusted in You;     They trusted, and You delivered them.     5 They cried to You, and were delivered;     They trusted in You, and were not ashamed.     6 But I am a WORM, and no man;     A reproach of men, and despised by the people.     7 All those who see Me mock Me;     They shoot out the lip, they shake the head, saying,     8 "He trusted in יהוה, (Yahweh) let Him rescue Him;     Let Him deliver Him, seeing He has delighted in Him!"  (Matthew 27:43)   9 For You are the One who took Me out of the womb;     Causing Me to trust while on My mother's breasts. (Only Yeshua could say that)    10 I was cast upon You from birth.     From My mother's belly You have been My Ěl.     11 Do not be far from Me,     For distress is near;     For there is none to help.     12 Many bulls have surrounded Me;     Strong ones of Bashan have encircled Me. (Bashan Bulls)    13 They have opened their mouths against Me,     As a raging and roaring lion.     14 I have been poured out like water,      And all My bones have been spread apart;     My heart has become like wax;     It has melted in the midst of My inward parts.     15 My strength is dried like a potsherd,     And My tongue is cleaving to My jaws;     And to the dust of death You are appointing Me.  (John 19:28)  16 For dogs (Gentiles)  have surrounded Me;     A crowd of evil ones have encircled Me,     Piercing My hands and My feet; (John 20:25)    17 I count all My bones. (John 19:36)   They look, they stare at Me.   (Luke 23:35)  18 They divide My garments among them,     And for My raiment they cast lots.  (Matthew 27:35)   19 But You, O יהוה, (Yahweh)  do not be far off;     O My Strength, hasten to help Me!     20 Deliver My life from the sword,     My only life from the power of the dog.     21 Save Me from the mouth of the lion,     And from the horns of the wild beasts! (2 Timothy 4:17)   You have answered Me.     22 I make known Your Name to My brothers;     In the midst of the assembly I praise You. (Hebrews 2:12) (John 20:26)    23 You who fear יהוה, (Yahweh) praise Him!     All you seed of Ya'aqoḇ, (Jacob) esteem Him,     And fear Him, all you seed of Yisra'el !     24 For He has not despised     Nor hated the affliction of the afflicted;     Nor has He hidden His face from Him;     But when He cried to Him, He heard.     25 From You is My praise in the great assembly;     I pay My vows before those who fear Him.     26 The meek ones do eat and are satisfied; (Matthew 5:5)    Let those who seek Him praise יהוה. (Yahweh)    Let your heart live forever!     27 Let all the ends of the earth     Remember and turn to יהוה, (Yahweh)    And all clans of the nations     Bow themselves before You. (Revelations 5:9)     28 For the reign belongs to יהוה, (Yahweh)     And He is ruling over the nations. (Revelations 19:15)    29 All the fat ones of the earth     Shall eat and bow themselves;     All who go down to the dust bow before Him,     Even he who did not keep alive his own life.     30 A seed shall serve Him.     It is declared of יהוה (Yahweh) to the coming generation.     31 They shall come and declare His righteousness     To a people yet to be born,     For He shall do it!
WOW is all we have to say…  Just WOW!!!!!
As time has gone one and we study more we often learn things we never knew. At the beginning of Psalm 22 it translated as Yeshua saying My God, My God, why have you forsaken me.  He actually said, "My God, My God, Why have you spared me?" These words are straight from Anrew Gabriel Roth's (AENT) which is a translation of the oldest NT ever discovered, the Khabouris Codex which was written in all Aramaic – no Greek in sight!
"Always Learning"
Biblical Truth
.