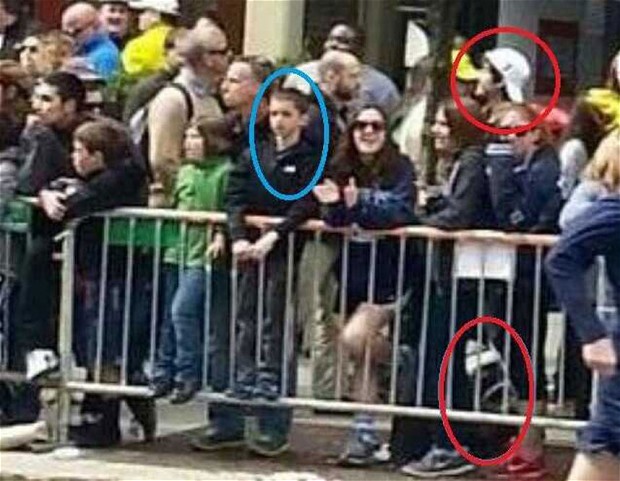 We don't usually watch any news. We don't usually post pics of people. With that being said we feel everyone should stare at this pic for a bit. In the background you have HaSatan (the enemy) in a white hat. If you look down on the ground… HaSatan (the enemy) has dropped a backpack with a bomb in it. Take a good look.  HaSatan (the enemy) can manifest himself in any form he wants.  He is all around us.  He is the authority of the air.
(By Grace Through Faith) Ephesians 2:1-3  And you were dead in the trespasses and sins in which you once walked, following the course of this world, FOLLOWING THE PRINCE OF THE POWER OF THE AIR, the spirit that is now at work in the sons of disobedience— among whom we all once lived in the passions of our flesh, carrying out the desires of the body and the mind, and were by nature children of wrath, like the rest of mankind.
Towards the forefront of the picture circled in blue is the boy who lost his life due to the enemy's work. Up to the point of the explosion everyone in that picture is excited and smiling. One second of time changed the life of everyone in this picture. ONE SECOND!!! There is no way for any of us to prevent everything all the time. All we can do is have Faith and know we are protected by HIM. Although that boy has lost his life, he is now peacefully resting waiting for the day our Messiah will bring him into the Kingdom. That child will get into the Kingdom as HE has always told us to be like the children.
Events like this "TEST" our Faith on a daily basis. Events like this "TEST" our ability to promote our Savior as protecting and loving. Events like this "TEST" everyone involved. We just have to remember that no matter what happens, HE will be there in the end if we have Faith in HIM and try our best to follow in HIS commandments. We can't imagine what emotional scars were developed by all those involved but we do know whom can heal them and his name is HaMashiach Yeshua.
"Always Learning"
Biblical Truth